He is an NPC and being an NPC in WoW is kinda a cool thing. If you had a friend as an NPC you would be excited too, right?!
Who you may ask …
*deep breath*
My little sister's boyfriend's brother
(got all that?)
is a Producer for Blizzard, Rob Foote. The four named Footmen are named for Rob and his three brothers, Chuck, George, and Mitch. So the
Foote brothers are Footmen
in Valiance Keep in the Borean Tundra.
My sister's boyfriend NPC is
Footman Mitch
. Rob gets his brother, Mitch, into things like Blizzcon. Husband and I get to reap the occasional benefit. Thus things like the
polar bear mount and murloc suits
come our way.
In Footman Chuck's notes in wowhead someone said
"How... random?"
Now blog readers you are smarter then those reading wowhead.
After much searching I couldn't find him
(because all humans look the same.)
Even made a /target Footman Mitch macro.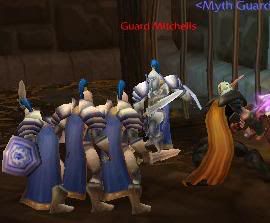 I think he is confused and is actually
Guard Mitchells
is his NPC. He is a member of the
Cult of the Damned
. I knew I always liked him... I meant bad evil misguided man.