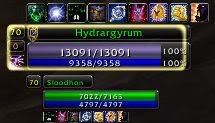 More random SL/SL PvP things…
Soul Link is now on all the time. I now know you don't want it to go away. Soul Link should be active when your minion is out. Being me, when I activated it I tried to remove it. You cannot click off the buff or smash the button to make it go away. Is this something that Arcane shot removes? I am not entirely sure.
I am a self buff counter. Not including consumables, I use to have only three, Fel Armor, Detect Invisibility, and Underwater Breathing. I now have extra buffs. I have to say they confuse me by just being there, Demonic Knowledge, Master Demonologist, and Soul Link. I am not use to seeing them displayed on me. With the new buffs it is a total of six. I am getting use to them.
I have been using the addon Proximo. It is primarily for arenas. I am going to try it out in battlegrounds. I would like to get use to using it. See if it helps me put up my dots faster. Even just being more enemy aware. Make 5v5s feel less chaotic. I want it to be something I naturally use in a glance.

When I am in damage mode, I run around putting up my dots. Which is still the case… but I need to stop and drain life more. This is actually completely different then how I normally play. Only time I ever stand still while fighting is in AV when I am just trying to do massive damage with seed. So I am working on moving less and draining more.
With no instant Howl of Terror I need to learn to STOP running up into the middle of Horde. I did this all the time. HoT and DoT everyone while running. A partner would try for the flag while I worked on kiting the Horde away from the flag. It doesn't work very well now with a cast time that can be pushed back.
I did find Dreamspirit. I am going through the videos. She did a commentary video and then another. I found them helpful.