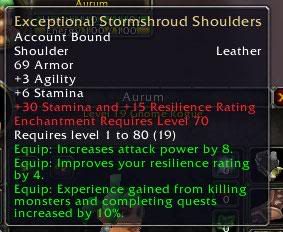 BBB recently told how to
uber your alt
using the
Greater Inscription of the Gladiator
. This was also a twink item. As of 3.1 that enchant is no longer useful for characters under level 70. So the enchant will not kick in until level 70. You will still be able to use the nice account bound shoulders but not the enchant.
A big issue I had was the
Nat Pagle's Extreme
Anglin' Boots
now have a level requirement. *sniffles* Bye bye to my
Cat Swiftness
enchant. On the PTR once I unequipped them I was no longer able to use the boots.
I was having trouble on the PTR on seeing enchants that I didn't have through an enchanter link. So was unable to see anything else. Any new twinks being made really should have done research enough to know changes were happening and to wait until 3.1 was upon us.
Another change is that the
Trave
ler's Tundra Mammoth
and the
Motorcycle
will no longer be classified as vehicles. Which no longer lets you into Underground Ironforge. So I went down and visited.