Hydra
(70 Lock)
:
The
Gold Medallion
... Remember I don't PvP. If I don't get it first, I never will go into battle. Anything but AV is horde dominated in the Emberstorm battlegroup. I hope to achieve some wins with my guild mates and friends. We run
Alterac Valley
and to fill in the wait time some
Eye of the Storm
. After winning four AVs in a row I had no Gold Medallion.
We were having fun killing in EotS. I was guarding Fel Reaver. One of the ladies I play with is a Priest healer. It was absolutely great. She would go help assault Bloodelf tower. When it got hot for her she would lead her assailants toward me at Fel Reaver. I would run down the ramp and they would run away. We were laughing so hard.
I am not kidding … hunter, druid, or rogue. It didn't matter. Priest to Hydra. Running scared Horde. She would sit below me and drink up. Then off to heal again. This happened six times and we laughed each time.
[Priest] What did you do to the Horde Hydra to make them so scared of you??
[Hydra] I put on my angry lock face. grrr.
Sure enough Gold Medallion was mine after that win in EotS. Quite proud that is was not an AV.
Aurum
(19 Rogue)
:
So you get a Gold Medallion for beating on Horde. You are kidding right? I beat on them in my sleep. Hydra said it may take a few games. Picked up a friend, capped three flags, and wiped off my blades after each honor kill. I have mail… look at that … a new
tabard
and a Gold Medallion.
Iridium
(29 Hunter – Horde)
: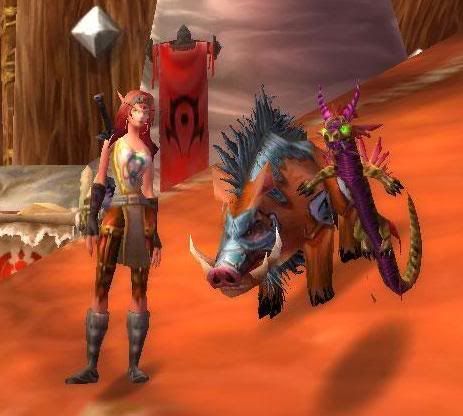 Received notes from Aurum about how easy she had it to achieve her medallion. If that is the case I shouldn't have a problem. Was I wrong. Game after game it would be a frustrating loss or win with nothing but the tabard. So I called it a night.
Lets try this again. I have so much fun in there in
Warsong Gulch
and
Arathi Basin
. What is different? Then it hit me. Apparently the horde responds to dingbat girl talk. *clears throat* I can like totally start doing that.
[Iridium] *squeal* I like absolutely love Precious.
Iridium huggles Precious.
[Iridium] Precious and I are like going mine. And you should TOTALLY help me.
[Iridium] But you know … only the cool ones. The rest should go LM and BS.
…
[Iridium] WooHoo! Go team. Everybody group hug!
Iridium hugs everyone.
*jumps up and down* I like so had a pet dragon in my mail. He is so cute I just want to cuddle wuddle him.
Molybdenum
(37 Hunter - Horde)
:
I'm leveling here. I am trying to reach 70 sooner then later. A break for some battleground can be fit in. Well at least a game or two, because there are mines to be had and gold to be made. I am not geared for battle. We shall see how this goes.
Some gear would be nice to help with leveling. I think I shall get myself the
Outrider's Bow
and build up some marks for gear. Now I just need a
scope
made.
Arathi Basin seems promising. Kitted Alliance around like puppets and enjoyed every moment of it. When the person next to me knew to change the flag while I kitted, I know we would win. There it was the Gold Medallion on the first game. Yea I am up to a few more to see if I can get the tabard.
To be continued by Iuncusia and introducing Artume…