After casually working for the
Netherwing Dragonflight
the last few months I have finally received my dragon. I did a few of the dailies maybe twice a week. It was slow going for me. I do have to say that a few times the only quest I did was the
Booterang
. There is just something extremely right about that quest.
Here I am flying with a mighty wing span…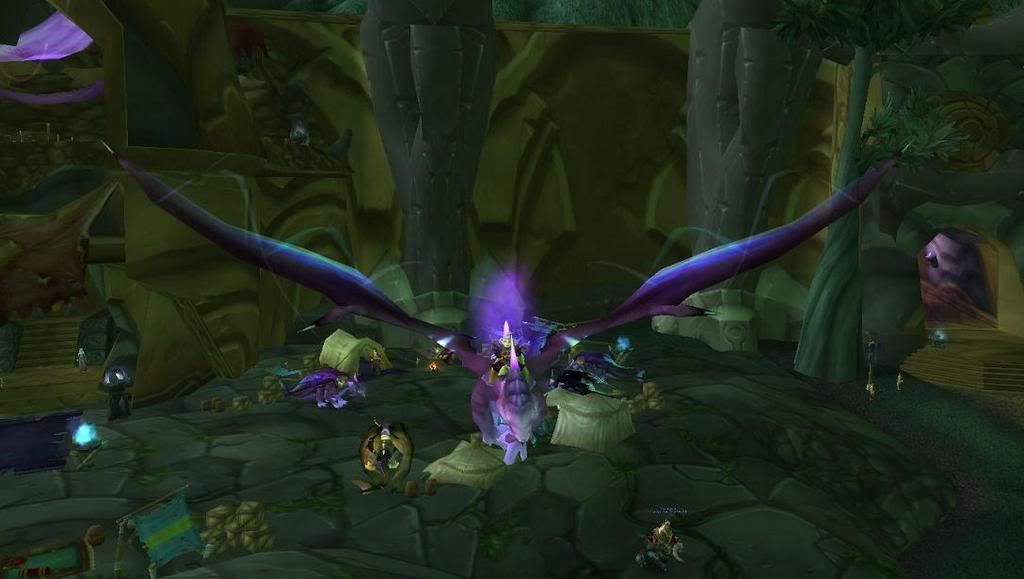 With multiple flyers and ground mounts, I pushed the limits of the 255 character max for
my mount macro
. To help solve this I use the item numbers. I found them by looking at the URL using
wowhead.com
. There maybe a better way to find the numbers but I found this efficient for my purposes.
[Purple Riding Nether Ray]
= item:32316
[Swift Purple Gryphon]
= item:25529
[Reins of the Violet Netherwing Drake]
= item:32862
[Stormpike Battle Charger]
= item:19030
Replacing the mount names, I went from 112 (26+22+26+38) characters to 40 (10+10+10+10) characters. This change allowed me to fit in all my mounts.
/stopmacro [flying]
/userandom [nomodifier,outdoors,nomounted,flyable] item:25529, item:32316, item:32862; [outdoors,nomounted] Summon Dreadsteed, item:19030
/userandom [modifier:alt,outdoors,nomounted] Summon Dreadsteed, item:19030
/dismount [mounted]
Without the spaces between the different mounts the entire macro is 245 characters. I left the spaces in at the moment.
I would really like to shorten "
Summon Dreadstead
" but I was having trouble making it work. I am still under the 255 characters with it written out. But I am working towards
item:29228
. It will all fit... I will make it fit.